Shopping.. shopping… must go shopping! I am a zombie right now. I can't believe today is Thanksgiving! Can you? I think my company deliberately paid us early just so we can go shopping on Black Friday / Cyber Monday. Evil!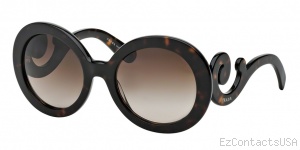 I already snagged a really awesome deal on a pair of Baroque-inspired Prada Sunglasses PR 27NS! They were $192 with a 10% off Black Friday coupon at EzContactsUSA.com. I've purchased from this company before, so I know their products are 100% authentic.
Check out their fabulous deals on designer sunglasses! Use the coupon code BFSALE10
Drugstore.com: Get Olay Pro-X Advanced Cleansing System for $19.99
and also Get $5 off the Neutrogena Microdermabrasion System. My personal favorite is the Clarisonic Mia facial cleanser, and they've got it on sale 20% off select models. Here's your chance to try an eyelash serum! Get Rapidlash Eyelash Renewal Serum for $24.95. If you have been oogling that CHI flat iron for a while now, here is a great deal! Get the Chi Ceramic Hairstyling Iron 1″ for $89.99!
Bliss is offering their holiday products at 20% off! Great for gift-giving!
Beauty.com: Cyber Saving abound on Beauty.com with 20% off Arcona products, lots of gifts with purchase available on the site as well as a nice Stila Holiday eyeshadow palette for $25!
Ulta.com: I think Ulta really just wants you to come in the store for the great deals. They are, however, offering Free Shipping on all orders $25 or more using the code: HOLIDAYSHIP25. The current ad for the 2-day sale can be found here: Ulta 2-Day Savings.
E.L.F Cosmetics: Free shipping, plus buy one get one 50% off when you spend $30 or more using coupon code BLKFRI 11/24  – 11/26 and save up to $100.  Also, get 50% off this Cyber Monday with all orders over $25. Use code 50WIDE from 11/27-11/29 and save up to $100.
Yves Saint Laurent: Receive 20% off plus Free Shipping on any order with Code CYBER at checkout. Valid 11/22-11/26. Also, receive 20% off plus FREE shipping on every order, plus spend $100 or more and get a free gift with Code MONDAY at checkout. Offer Valid 11/28-11/30.
Stila Cosmetics : Warehouse sale galore online starting on Cyber Monday and running through Friday, December 2, 2001, with up to 80% off of some items.
Folica.com: Receive $25 off plus Free Shipping on orders over $75. Enter NOV25 at checkout.
Good from 11/23-11/29.
Elizabeth Arden: Free 5-piece gift plus free shipping with any $35 order. Enter code BEAUTY35 at checkout.
Happy Thanksgiving from Krista Dior.. and Happy Shopping!!!!!!