I didn't die.. I promise. I'm here, I'm here!!! I can't believe it has been since September since I last posted. Shame on me!!! I've been so incredibly busy, and unfortunately, things will get even crazier in the coming months. This blog is my ONLY escape to sanity.. so here I am with my favorite Beauty Products of 2010… MY CHOICE!
I didn't focus on purchasing color products this year, mainly because I bought way too much last year and I'm trying to use it all. This year, it was all about perfecting the complexion and hair, so check out the list and share with friends!
Foundation & Powder
ColorStay™ Makeup with SoftFlex™ provides lightweight comfort, so you feel like you're not wearing makeup. Looks fresh for up to 16 hours.
Why I love it: I used the original formula version of this when I was a teenager and still use it today in my 30s! I have tried many foundations this year, including Laura Mercier, NARS, Make Up For Ever and L'Oreal TrueMatch. This foundation still performs like a dream, but it ended up shattered on my bathroom floor this morning.. glass everywhere! Revlon: We need better packaging and the old formula back.. but other than that, it's perfect!

A translucent, loose mineral powder that sets cream and liquid foundations to a perfect finish.
Why I love it: I just wanted something light to set my makeup, so I tried this powder out for only $8 at Sephora, and wow, I love the stuff! I didn't know this was a mineral powder (I don't like mineral foundation!) but I love the slight, natural glow that this powder gives and it lasts for a few hours until I need to reapply. I have oily skin, so there is no possible product that I won't have to touch-up later on in the day.

Eye Shadow Base
An eye prep product that provides smoother, longer-lasting, and absolutely crease-proof eyeshadow—and is now offered in a very-wearable, tawny, matte hue.
Why I love it: If Journey could write a song about this product, it would go something like this: Oh, Eden, our love holds on HOLDS ON, HOLDS ON! I basically pushed my original Primer Potion aside and made room for this gem. This works beyond my expectations!

Eye Care
With light-reflecting pigments and raspberry extract, this magic pink balm gives eyes an instant brightening boost.
Why I love it: I've been a devout "Ooh La Lifter" since 2001. I haven't seen any other product lift and depuff as effectively as this does. I am possibly allergic to eye creams (seeing doc next week to find out!) and this is the only thing that I can use that doesn't make my eyes itch like crazy. It is a "throw in the purse and go" must have! As a former Benefit cosmetics employee, I can totally vouch for this product!

Mascara
Unique flexible wand helps to lift and separate lashes to provide the look of more lashes.
Patented Spoon brush and Kera-fiber formula instantly build 5x more volume without clumping to complete the false lash look.
Why I love it: This is so totally not Maybelline Lash Stylist (disc. product that should not have been disc.!!) but this is a very lovely mascara that I've recently fallen in love with. The brush is very unique and delivers a lot of product at one time, so putting on mascara happens in a flash. My lashes look long, separated and defs not at all clumpy!

Brow Product
Anastasia Brow Pen glides on easily, clinging to both skin and hair, for a lush and natural look. Use it as a base to increase your current brow makeup's staying power or to fill in sparse areas for a fuller look.
Why I love it: I don't exactly LOVE this product, but I am an advocate for brow pens!! First off, the color selection of this product needs to be expanded. The lightest shade is too dark for me, and I need one just a tad lighter. I also own the MAC version of this pen, but it doesn't have the staying power as this one does… so if Miss Anastasia is out there..add a lighter brow pen shade and keep the formula! I have yet to see this product fade away on my oily skin!
Hair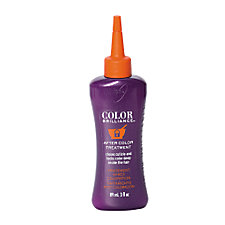 Restores natural pH level after a color service
Protects hair for long-lasting color
Closes cuticle to lock in color
Eliminates oxidizing agents
The Ion Color Brilliance After Color Treatment is a state of the art formula that helps to stop the oxidation process after tinting, lightening, permanent waving or relaxing. It's triple action formula helps to eliminate traces of remaining oxidizing agents, sealing the cuticle layer of the hair and helps to restore the natural pH of the hair and skin.
Why I love it: Honestly, I have never found anything that made my hair so nice after a dye job. Since I bleach my hair, I need to tone it at least every two weeks. Toner fades pretty fast and with this product, my color lasts a bit longer!

The exclusive Super Skinny Complex penetrates deep into hair to displace water and constrict hair for speedy drying and styling.
Why I love it: Holy hot dogs.. this product has transformed my hair!! I just discovered it a few months ago during a salon visit at Regis, and I cannot say enough great things about this. The bottle is HUGE and the stuff works. My hair never breaks or looks dull and it is not greasy. I loooooove it. Also won awards from TotalBeauty.com for best serum.
Okara Mild Silver Shampoo was specially formulated to restructure, protect and gently wash gray and white hair while neutralizing yellowing.
Why I love it: I've watched YouTube videos til I was blue in the face, trying to find the perfect toning shampoo for blondes. This is IT. (I didn't find this on YouTube, either!) Doesn't leave that purple haze on your hair and evens out your color to the perfect platinum. Thanks to the gals at Planet Beauty at Oakridge Mall in San Jose for pointing this out to me.


Anti-Fade System
100% Sulfate-Free
No Harsh Salts
Natural Botanicals
100% Vegan
Exclusively for Color Treated Hair!
Why I love it: This is the shampoo I use when I am not using the toning shampoo (above), not only because it is sulfate-free, but it really does smooth out my hair! I've got frizzled hair (fried, sizzled and frizzy) and this helps calm it down. Definitely a great purchase and a must-try! I have yet to try the conditioner, and I will as soon as I finish with my current favorite conditioner!
All Soft Heavy Cream super treatment provides intense moisture for deep conditioning. It penetrates easily to soften, detangle and control frizz.
Why I love it: I have to use a heavy conditioner every time I wash, this one by Redken doesn't get too greasy and it provides just the right amount of moisture. I haven't yet tried this as a conditioning pack for more than 5 minutes, but with a little heat and a conditioning cap, I'm willing to bet this will perform a few miracles on my hair!

Terax Clarifying Shampoo is formulated for deep cleansing of residue from hard water minerals, smoke and styling products.
Why I love it: I use a lot of products in my hair! Just look at the list above.. and there is even more than that when I use hot tools to style my hair. I use Latte when I need to remove the gunk and start with a clean slate. Been using this for years, but wanted to give it a shout out!

Professional Pro Pink,100% solid ceramic plates. Heats to 420°, seals the hair follicle leaving hair silky, shiny, and smooth.
Why I love it: I am on my 2nd flat iron from Le Angelique.. I absolutely love it, and personally, I think it totally out performs high-end irons like CHI and GHD by a long shot! I saw this iron at a county fair and I have never like any other hot tool since.
Honorable Mentions
I still haven't found my dream skincare line and trust me, I'm still hunting for something that doesn't cause breakouts, is anti-aging and refines my complexion. Sounds like I'll have to dig a bit deeper in this realm of face products. I was using glycolic peels and retinol pads, but it seemed to really irritate my skin more than help it.
I have been loving the Clinique Dramatically Different Gel for non-oily moisturizing needs. One of my best beauty finds of the year was at Nordstrom Rack, and it was the Stila Cheek Color Pan in "Dance". The color is absolutely amazing, peachy, glowing, and gives this very flawless finish to your cheeks. I'm assuming this product is disc. but you may find it here. The MAC Chocolate Brown Pigment was one of my very few color purchases of 2010 and I am so glad I did! Here is a video tutorial that I found on YouTube with a demo on how to use the pigment in a very easy demonstration! This pigment has sparked my love back for MAC pigments and I'll defs be looking for more colors coming up soon.
Welp, there you all have it! My top picks for 2010! Again, I'm sorry for the long absence, I'll try to come more often!! Please feel free to share your top picks by commenting on this blog AND don't forget to "Like" my blog!!!
Happy Holidays!